Hiring Ideal Candidates
Free White Paper - The Modern Science behind Sales Force Excellence
This White Paper provides insights, commentary and conclusions reached from our Sales Force Effectiveness Study, conducted during the latter part of 2014. We will report on the practices of companies large and small, with and without dedicated top of the funnel teams, and with and without traditional sales forces. The study was designed to be inclusive rather than exclusive, and have applicability to any sales leader, HR professional or senior executive that reviews it.
To receive a copy of this white paper, please complete the simple form and click Request White Paper. You will receive an email with a link to the document.
Additional White Papers:
The Modern Science of Salesperson Selection
Sales Longevity - The Science of Predicting Sales Turnover
The Trust Project - When and Why Salespeople Aren't Trusted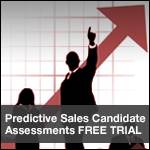 Putting the right people in the right places is a science
It takes a systematic approach.
Learn six ways to improve your performance and be a better manager, mentor, and motivator.
Sandler-trained sales managers develop the skills and are given the tools with which to:
Create an accurate job profile

Formulate relevant interview questions

Conduct meaningful interviews

Organize and record applicant information

Objectively evaluate applicants

Make successful hiring decisions
Your Trusted Expert for sales and management advice
The Sandler Blog
Insight and tips on current sales, sales management, leadership and management topics. We invite you to comment on our posts and to pass them on to your colleagues.
SUSTAINABLE SUCCESS IN SALES = ACCOUNTABILITY
Create a Culture of Accountability for Your Team
Accountability The Sandler Way, written by author and Sandler trainer Hamish Knox, shares how sales managers can create an accountability-driven work culture for their teams and themselves… by investing just 20 minutes a week in Sandler sales and management principles.
Accountability can be a way of life for your sales team, creating clarity for yourself and your team around goals (yours and theirs), the path to achieve those goals (yours and theirs) and the consequences triggered by failing to stick to the path. And it's easier than you think to accomplish.
TURN YOUR SALES TEAM INTO A DREAM TEAM
Get the tools to help you build, motivate and lead a high-performing sales team.